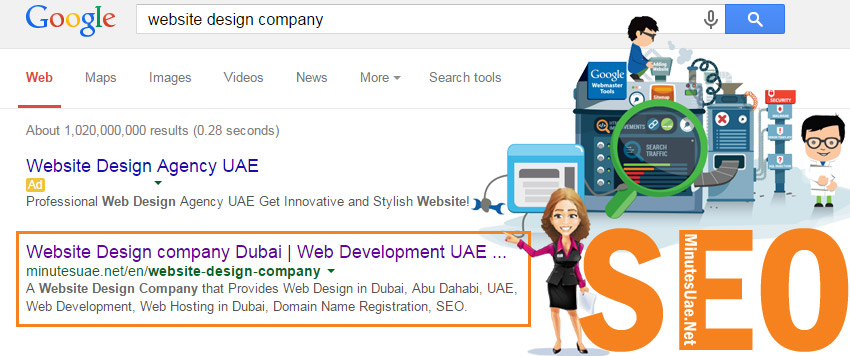 Search Engine Optimization in Dubai, UAE
The Best SEO Company in UAE
Posted by Deyaa Hussein,
September 3, 2014
Last Updated: May 13, 2015
Over the last ten years search engine optimization (SEO) has become an important factor in online business. The first page at the top ten result of the major search engines (Google, Yahoo and Bing) gain 85% of search engine traffic. Website owners think that their websites are listed in the first page of google when they search using the company name and this is not correct because only your clients know your company name. If you want to extend your audience you have to target those who are using business activity keywords in search like web design company in Dubai or SEO company in Dubai.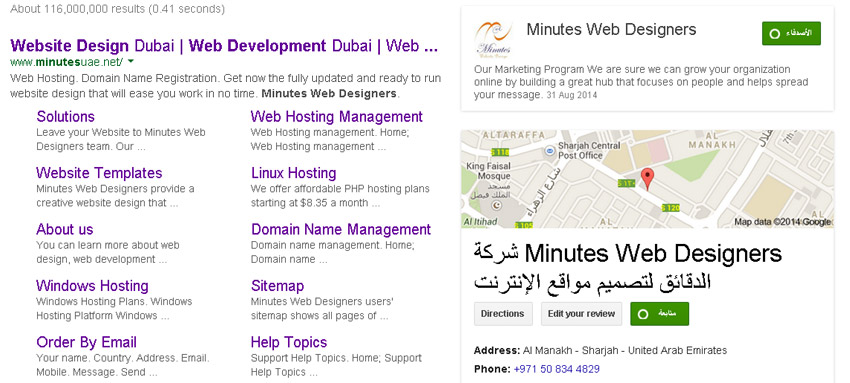 You need to ask designers and developers to optimize your website code. Also, your website should be updated continuously with unique content. This is what we call on page optimization.
There is also off page optimization which means to work hard in building links to a website and to index your website in search engines. Using webmaster tools will help gaining higher ranking for your site.
All this work should be done after understanding the basics of how a search engine works. Because any wrong activity or illegal methods could block your website by search engines. Truly, instead of wasting money to be spent on advertising in Google adwords, we advise you to spend it to improve your search engine ranking and SEO.
Our web marketing experts will help you online to improve your website optimization to reach the 1st page of search engine. Read the following topics to learn online marketing strategy using SEO.

We Sell SEO Services.
Now you can buy SEO Services at Affordable Price from Minutes Web Designers' SEO Marketplace.
300+ Search Engine Listing
200,000+ Site Submissions
Website Code Optimization (Meta tags - Title tags - Keywords - Heading tags - Alt tags )
Get Certified in Alexa
Boost Alexa Rankings
Manual Link Building
Monitor Backlinks
Create 50 Social Network Profiles
Daily post to 50 Social Networking
Daily post to 50 Blogs and Forums
Increase your site visitors
Google Local Business Listing
Google Analytics Reports
Writing Unique Website Content
Writing Unique Articles and Article Submission
Website Analysis
SEO Analysis report
On-page optimization
Off page optimization
Adding landing pages
Bring your website to First page of Google
Improve page rank
Top page of Google, Yahoo!, Msn & Bing
HTML Site Map
XML site map and Submission in webmaster tool
Ror.XML File creation
Robots.Txt File creation Extra work activities